Article successfully added.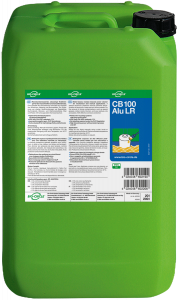 CB 100 Alu LR (low residue)
Art.-Nr :
A02036
The Cleaner and Degreaser CB 100 Alu LR Cleaner and Degreaser has a high dissolving power and prevents tarnishing of aluminium, brass and non-ferrous metals due to its special protective formula.
The cold cleaner alternative is also suitable for ultrasonic and immersion applications.
REMOVES extremely persistent, burnt-in dirt, special greases, greases, oils, smoke, soot, rubber residues, bitumen- and wax residues, and pastes
CLEANS stainless steel, steel, aluminium, brass and non-ferrous metals
Protection against tarnishing → aluminium protection formula
Temporary intermediate storage possible → light corrosion protection
Long service life → recyclable, demulsifying
Occupational safety and protection of the environment → VOC- and solvent-free
For manual and automatic use
Preise sind erst nach der Anmeldung sichtbar.
OUR BADGES
Low application temperature, energy-saving, water-saving
For us, sustainability means taking responsibility
From renewable raw materials, non-flammable, VOC-free, non-marking
Suitable for the food industry, miscible with water, can be rinsed without residue
Free from / reduced volatile organic compounds according to EU regulation