With 3 clicks to your top choice
Zinc-Spray
Kugelförmige Zinkpigmente garantieren einen Hightech Korrosionsschutz. Sie erzielen durch den hohen Zinkanteil von 95% einen aktiven Korrosionsschutz und bewirken zudem eine exzellente Verbindung zwischen Pigment und Epoxyharz....
CB 100
CB 100 is a water-based, low-foaming cleaner based on renewable raw materials. Its natural active ingredients dissolve contaminations powerfully without pitting the surfaces. It has a pleasant odour, it is solvent- and VOC-free,...
Product sizes:
PET bottle with trigger 500ml
Metall-Fass 200l seitliches Spundloch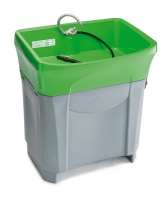 BIO-CIRCLE GT Maxi
The BIO-CIRCLE GT Maxi is a high-performance, sturdy and durable parts washer. It captivates with its easy handling and high payload. The parts washer features a large usable area, with plenty of space also for cumbersome parts that can...
BIO-CIRCLE GT Compact
The BIO-CIRCLE GT Compact makes parts cleaning easy and safe. The parts cleaning device meets highest requirements on ease of use, reliability and suitability for daily use. Water-based cleaning with natural microorganisms, without...
E-WELD 3
The odourless water-based welding protection spray with cleaning- and degreasing effect can be used in all common welding operations, from MIG/MAG welding to laser cutting. The emulsion is easy to apply and, in dry and wet state,...
Product sizes:
PET bottle with trigger 500ml
High-Performance Anti-Rust Wax
High-Performance Anti-Rust Wax has excellent metal adherence properties and protects all metals from corrosion during open-air storage and transport. The protective film is highly flexible, dynamic and does not stick. Once dried, the wax...
UNO S F
The UNO S F general purpose cleaner has been especially developed as a low-foaming water-based cleaner for use in automatic cleaning devices. It can i.a. be used in: Pressure washers Ultrasonic systems ...
Product sizes:
plastic bottle with trigger 500 ml
BIO-CIRCLE L
BIO-CIRCLE L does its cleaning based on water and removes everyday contaminations, in particular oils, greases and particle impurities, from work pieces such as moulds. Its employment in the BIO-CIRCLE parts washer and the...
Smoke Resin Remover
Smoke Resin Remover is universally applicable in the entire foodstuffs industry for the removal of persistent deposits and contaminations. Escapes and flues in industrial kitchens, restaurant kitchens, and canteens are cleaned; deposits...
Product sizes:
plastic bottle with trigger 500 ml with foam nozzle