With 3 clicks to your top choice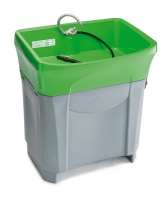 BIO-CIRCLE GT Maxi
The BIO-CIRCLE GT Maxi is a high-performance, sturdy and durable parts washer. It captivates with its easy handling and high payload. The parts washer features a large usable area, with plenty of space also for cumbersome parts that can...
BIO-CIRCLE GT Compact
The BIO-CIRCLE GT Compact makes parts cleaning easy and safe. The parts cleaning device meets highest requirements on ease of use, reliability and suitability for daily use. Water-based cleaning with natural microorganisms, without...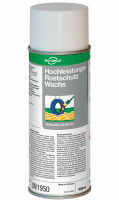 High-Performance Anti-Rust Wax
High-Performance Anti-Rust Wax has excellent metal adherence properties and protects all metals from corrosion during open-air storage and transport. The protective film is highly flexible, dynamic and does not stick. Once dried, the wax...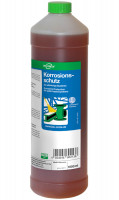 Corrosion protection for water-based systems
The low-foaming corrosion inhibitor for neutral and alkaline cleaning agents, welding protection sprays, passivation baths and water treatment media contains 100% active ingredients. It achieves optimal effect in neutral and alkaline...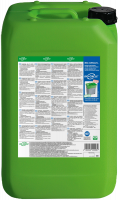 BIO-CIRCLE L
BIO-CIRCLE L does its cleaning based on water and removes everyday contaminations, in particular oils, greases and particle impurities, from work pieces such as moulds. Its employment in the BIO-CIRCLE parts washer and the...
FT 100
FT 100 is surfactant-free and cleans surfaces such as glass or plastics without leaving residues, streaks or stains. The surface cleaner is particularly suited for use prior to prior to varnishing, bonding, labelling or coating. In...
Product sizes:
PET-(Recyclat) Flasche 500ml mit Sprayer
10 rPET-Sprayflasche + 10 Refill, 500ml
Multi Clean
Multi Clean is universally applicable. It effectively removes greases, oils, waxes, and resins, but also algae, mould, soot or insect speck. Contaminations caused by pencil, ballpoint pen, felt pen or ink are dissolved as well....
Product sizes:
plastic bottle with trigger 1000 ml
5 Sprayflaschen + 5 Refill je 1000ml
BIO-CIRCLE microfibre cloth
The Bio-Circle micro-fibre cloth is the ideal cloth for highest demands. It removes cleaning fluid residues from the surfaces without smearing, which guarantees a streak-free, mirror-like surface. The soft texture facilitates effortless...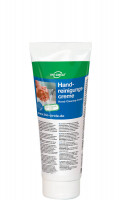 Hand Cleaning Cream
Oily, greasy or sooty hands need a hand cleaning cream that cleans particularly thoroughly. This can be achieved e.g. by adding scrubbing agents that enhance the cleaning result through their peeling effect: clean and groomed hands....