With 3 clicks to your top choice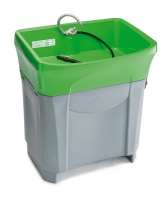 BIO-CIRCLE GT Maxi
The BIO-CIRCLE GT Maxi is a high-performance, sturdy and durable parts washer. It captivates with its easy handling and high payload. The parts washer features a large usable area, with plenty of space also for cumbersome parts that can...
BIO-CIRCLE GT Compact
The BIO-CIRCLE GT Compact makes parts cleaning easy and safe. The parts cleaning device meets highest requirements on ease of use, reliability and suitability for daily use. Water-based cleaning with natural microorganisms, without...
CB 100
CB 100 is a water-based, low-foaming cleaner based on renewable raw materials. Its natural active ingredients dissolve contaminations powerfully without pitting the surfaces. It has a pleasant odour, it is solvent- and VOC-free, and...
Product sizes:
PET-(Recyclat) Flasche 500ml mit Sprayer
Metall-Fass 200l seitliches Spundloch
10 PET-Sprayflasche + 10 Refill, 500ml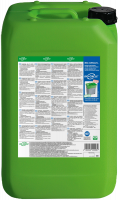 BIO-CIRCLE L
BIO-CIRCLE L does its cleaning based on water and removes everyday contaminations, in particular oils, greases and particle impurities, from work pieces such as moulds. Its employment in the BIO-CIRCLE parts washer and the...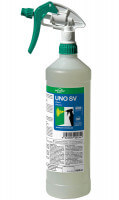 UNO S V
UNO S V is a viscous intensive cleaner that removes vegetable and mineral oils and greases, protein, separating agents, smoke residues and wax as well as fresh paint residues and pigment inks. It adheres to vertical steel- and...
Product sizes:
plastic bottle with trigger 1000 ml
5 Sprayflaschen + 5 Refill je 1000ml
FT 100
FT 100 is surfactant-free and cleans surfaces such as glass or plastics without leaving residues, streaks or stains. The surface cleaner is particularly suited for use prior to prior to varnishing, bonding, labelling or coating. In...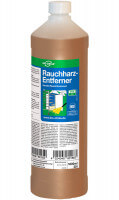 Smoke Resin Remover
Smoke Resin Remover is universally applicable in the entire foodstuffs industry for the removal of persistent deposits and contaminations. Escapes and flues in industrial kitchens, restaurant kitchens, and canteens are cleaned; deposits...
Product sizes:
plastic bottle with trigger 500 ml with foam nozzle
10 Schaumsprayflaschen+10 Refill, 500ml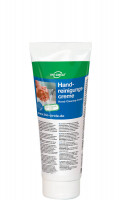 Hand Cleaning Cream
Oily, greasy or sooty hands need a hand cleaning cream that cleans particularly thoroughly. This can be achieved e.g. by adding scrubbing agents that enhance the cleaning result through their peeling effect: clean and groomed hands....
The high-yield eyeglass cleaner
The high-yield eyeglass cleaner removes contaminations, such as fingerprints, dust, dirt, and light oil- and grease residues, from eyeglasses. The glasses are maintained and protected from scratches. The spray cleaner is silicone-free...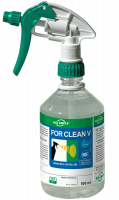 FOR CLEAN V
✔ Manual application ✔ Slightly viscous, foaming ✔ Unrestricted working, also overhead ✔ Optimal for vertical surfaces ✔ Cost-efficient ✔ To be...
Product sizes:
PET-(Recyclat) Flasche 500ml mit Sprayer
10 rPET-Sprayflasche + 10 Refill, 500ml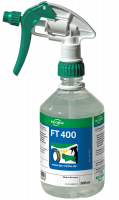 FT 400
FT 400 features a high dissolving power and effectively removes label residues, pigment inks, and fresh paint residues. Surfaces contaminated by oils, greases or separating agents can be cleaned. Forming emulsions or drawing oils can be...
Product sizes:
PET-(Recyclat) Flasche 500ml mit Sprayer
10 rPET-Sprayflasche + 10 Refill, 500ml