With 3 clicks to your top choice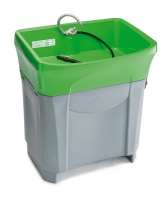 BIO-CIRCLE GT Maxi
The BIO-CIRCLE GT Maxi is a high-performance, sturdy and durable parts washer. It captivates with its easy handling and high payload. The parts washer features a large usable area, with plenty of space also for cumbersome parts that can...
BIO-CIRCLE GT Compact
The BIO-CIRCLE GT Compact makes parts cleaning easy and safe. The parts cleaning device meets highest requirements on ease of use, reliability and suitability for daily use. Water-based cleaning with natural microorganisms, without...
Multi Clean
Multi Clean is universally applicable. It effectively removes greases, oils, waxes, and resins, but also algae, mould, soot or insect speck. Contaminations caused by pencil, ballpoint pen, felt pen or ink are dissolved as well....
Product sizes:
plastic bottle with trigger 1000 ml
CB 100
CB 100 is a water-based, low-foaming cleaner based on renewable raw materials. Its natural active ingredients dissolve contaminations powerfully without pitting the surfaces. It has a pleasant odour, it is solvent- and VOC-free,...
Product sizes:
PET bottle with trigger 500ml
Metall-Fass 200l seitliches Spundloch
Limescale Barracuda
Limescale Barracuda can be used universally for removing limescale. Ideal for the cleaning of acid-resistant surfaces in sanitary facilities, saunas and public pools. The eco-sensitive cleaner can also be used outside on glass,...
Product sizes:
PET bottle with trigger 500ml
FT 100
FT 100 is surfactant-free and cleans surfaces such as glass or plastics without leaving residues, streaks or stains. The surface cleaner is particularly suited for use prior to prior to varnishing, bonding, labelling or coating. In...
Product sizes:
PET bottle with trigger 500ml
BIO-CIRCLE microfibre cloth
The Bio-Circle micro-fibre cloth is the ideal cloth for highest demands. It removes cleaning fluid residues from the surfaces without smearing, which guarantees a streak-free, mirror-like surface. The soft texture facilitates effortless...
Zinc-Spray
Kugelförmige Zinkpigmente garantieren einen Hightech Korrosionsschutz. Sie erzielen durch den hohen Zinkanteil von 95% einen aktiven Korrosionsschutz und bewirken zudem eine exzellente Verbindung zwischen Pigment und Epoxyharz....
Smoke Resin Remover
Smoke Resin Remover is universally applicable in the entire foodstuffs industry for the removal of persistent deposits and contaminations. Escapes and flues in industrial kitchens, restaurant kitchens, and canteens are cleaned; deposits...
Product sizes:
plastic bottle with trigger 500 ml with foam nozzle
E-WELD 3
The odourless water-based welding protection spray with cleaning- and degreasing effect can be used in all common welding operations, from MIG/MAG welding to laser cutting. The emulsion is easy to apply and, in dry and wet state,...
Product sizes:
PET bottle with trigger 500ml