With 3 clicks to your top choice
BIO-CIRCLE L
BIO-CIRCLE L does its cleaning based on water and removes everyday contaminations, in particular oils, greases and particle impurities, from work pieces such as moulds. Its employment in the BIO-CIRCLE parts washer and the...
E-WELD 3
The odourless water-based welding protection spray with cleaning- and degreasing effect can be used in all common welding operations, from MIG/MAG welding to laser cutting. The emulsion is easy to apply and, in dry and wet state,...
Product sizes:
PET bottle with trigger 500ml
FT 200
FT 200 can be sued as a substitute for solvents, cellulose thinners and cold cleaners. The corrosion inhibitors contained provide temporary corrosion protection. Moreover, it evaporates faster than conventional water-based cleaners....
Product sizes:
PET bottle with trigger 500ml
FOR CLEAN V
With its special combination of different chemical compounds, it has been designed to perfectly remove flyspeck, oils, greases, soot, and many more. The slightly viscous cleaning gel features a very good adhesion to surfaces and is...
Product sizes:
PET bottle with trigger 500ml
BIO-CIRCLE GT Compact
The BIO-CIRCLE GT Compact makes parts cleaning easy and safe. The parts cleaning device meets highest requirements on ease of use, reliability and suitability for daily use. Water-based cleaning with natural microorganisms, without...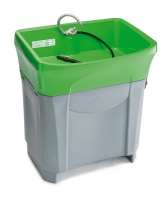 BIO-CIRCLE GT Maxi
The BIO-CIRCLE GT Maxi is a high-performance, sturdy and durable parts washer. It captivates with its easy handling and high payload. The parts washer features a large usable area, with plenty of space also for cumbersome parts that can...
SC 100
SC 100 is an intensive cleaner for the fast, effortless, and effective removal of strong contaminations and persistent deposits. With its high dissolving power, it removes adhesive residues, bitumen, lubricants, graffiti, resins, oils...
FT 100
FT 100 is surfactant-free and cleans surfaces such as glass or plastics without leaving residues, streaks or stains. The surface cleaner is particularly suited for use prior to prior to varnishing, bonding, labelling or coating. In...
Product sizes:
PET bottle with trigger 500ml
Zink-Spray Silber
Zinc Spray Silver features a high concentration of zinc pigments that guarantee protection against weathering influences. Effective corrosion protection.
Smoke Resin Remover
Smoke Resin Remover is universally applicable in the entire foodstuffs industry for the removal of persistent deposits and contaminations. Escapes and flues in industrial kitchens, restaurant kitchens, and canteens are cleaned; deposits...
Product sizes:
plastic bottle with trigger 500 ml with foam nozzle