Trade fairs and exhibitions
"Trade fairs and exhibitions tie countries, continents and nations together. It is the interested visitors from all over the world that bring a trade fair to life." Birgit Große, Managing Director Bio-Circle Germany
Germany is one of the world's leading trade fair- and exhibition venues. Five of the ten major trade fair organizers are headquartered in Germany.
Since 1990, when we attended the Hanover Fair for the first time, the number of national and international fairs has been growing year after year. Hanover Fair is the most important industrial exhibition worldwide on the world's biggest exhibition grounds, and also for us the most important starting point for the exhibition season. International exhibitions like this enable us to build up a global network.
Our cleaning products and systems are the perfect solution for a variety of industry sectors.
We exhibit our products at up to 15 trade fairs per year. Some of the major trade fairs are:
InnoTrans in Berlin - international specialist trade fair for transportation technology
EuroBLECH in Hanover - one of the most important exhibitions for sheet metal working
Schweißen & Schneiden in Essen – huge specialist trade fair for the joining-, separating- and coating industry
Parts2clean in Stuttgart – Industrial parts- and surface cleaning
At the European Coatings Show in Nuremberg, the meeting point for experts in the paint- and varnish industry, we present our latest system, PROLAQ, a cleaning system for varnish application- and -processing tools.
Our well-trained technical consultants on site have professional answers to your specialist questions.
"Take the brush into your own hand!"
See and also test for yourself, live at our stand, how our innovation, the BIO-CIRCLE parts washer, works with a recyclable, label-free cleaner. Convince yourself of the product during the exhibition and make an appointment for a visit or a demo while you are there.
We are in constant dialogue with our customers, for our common future. We as a manufacturer can use your feedback to continuously improve our products and to find out what innovations the market needs. Our aim is to collect new ideas and realize our costumers' wishes!
For us as a company, specialist trade fairs are indispensable. They not only serve to bring partners from far way together and promote new valuable co-operations; they also facilitate the presentation and introduction of new innovative products. Customer retention is of utmost importance to us. We are happy to welcome existing and new customers to our stand at the fairs.
"An eye catcher"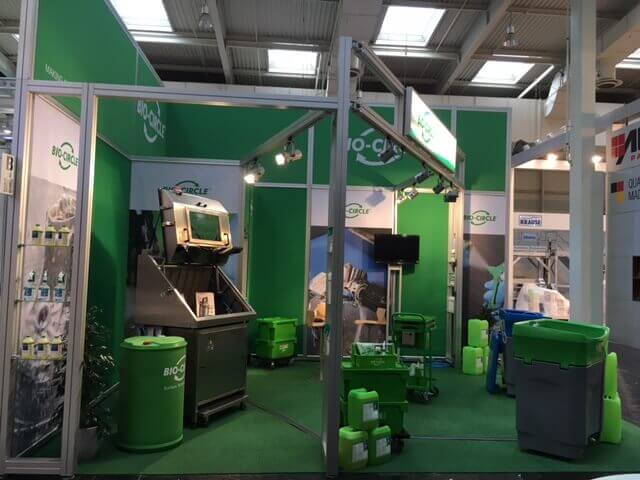 You can't miss our green stand at the fairs. Our slogan is "MAKING GREEN WORK.", which is also embodied by our branch offices and partners in 55 countries now. We attend important exhibitions abroad, such as WELDEX in Russia, HI in Denmark, or Elmia in Sweden. This means that you will always have a partner on site who can consult and support you in your own language.