CB 100 Range
Ready-to-use Nature Boost cleaners and degreasers with natural grease-dissolving powers for manual and mechanical applications.
The efficient, label-free cleaners of the CB 100 range are designed in such a way that they provide maximum protection for the employee while reducing environmental impact to a minimum. Based on renewable raw materials, the water-based solvent-free or solvent-reduced cleaners are particularly suited for the removal of extremely persistent contaminations and surface residues as can be found in the industry and trade.
Special greases that are difficult to remove, rubber marks, bitumen- and wax residues, oils and pastes are removed from steel, stainless steel, aluminium and other metal surfaces in a natural way and removed safely. The surfaces will not be pitted by the cleaners, and the original look will be restored. They are ready for use, which helps avoid mixing errors, and their cleaning performance can be exploited to the full.
They are particularly suited as an eco-friendly alternative to cleaners containing VOC and paraffin in the metalworking industry, the automotive and aerospace industry, and also in maintenance and service, e.g. in passenger and freight transportation. Their excellent dissolving power enables them to remove even strong greases, oils, adhesives and paint from moulds and components and to prepare the parts for further processing. The CB 100 are recyclable and non-combustible, which is why they are also well suited for manual and mechanical parts cleaning, e.g. in the BIO-CIRCLE parts washers or in the CLEAN BOX Max, and for the maintenance and service of machine parts and engines. They have a long service life, during which the eco- and user-friendly cleaning performance will not change.
More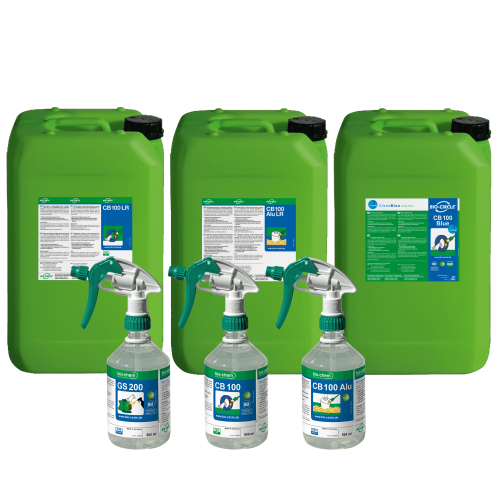 THE ADVANTAGES
For the removal of strong contaminations, such as special greases that are difficult to remove, rubber marks, bitumen- and wax residues, oils and pastes
Maintenance of engines
Strong dissolving power with constantly good cleaning performance
Long service life, recyclable
Replacement of paraffin and solvents
No labelling required under the CLP Regulation
For manual and mechanical use