Article successfully added.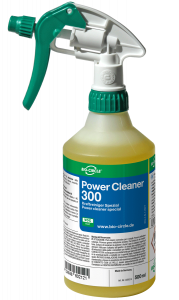 Power Cleaner 300
Art.-Nr :
A50014
Cleaning concentrate with special penetration effect
Power Cleaner 300 is a highly concentrated, phosphate- and VOC-free, surfactant-based intensive cleaning concentrate. It features a special penetration effect. The cleaner removes e.g. limescale and boiler scale residues, rust and corrosion, cement residues, wall rot, sodium nitrate- and salt efflorescence, oxide stains, urine scale, and green growth. The cleaning fluid is suited for all acid-resistant surfaces in the entire sanitary sector, for outdoor areas such as terraces, garden paths, parks and for cemeteries, car parks and petrol stations. The cleaner also removes oil stains from concrete surfaces.
Highly concentrated, can be diluted with water up to 1:40
Ideal for cleaning alloy wheels
Already works in a cold state
No phosphates or hydrofluoric acid
OUR BADGES
Low application temperature, energy-saving, water-saving
For us, sustainability means taking responsibility
From renewable raw materials, non-flammable, VOC-free, non-marking
Suitable for the food industry, miscible with water, can be rinsed without residue
Free from / reduced volatile organic compounds according to EU regulation