For optimized cleaning performance of the ultrasound, also VOC-free
STAR US Family
US stands for ultrasound. The STAR US cleaners complement all ultrasonic- and multifrequency devices and contribute to an improved cleaning performance. The STAR US range comprises acidic and alkaline cleaning concentrates for the cleaning of various materials and different degrees and types of contamination. The cleaning in ultrasonic devices is especially suited for complex work piece geometries and delicate surfaces. Since the cleaners are highly concentrated, they can be diluted depending on the cleaning requirements and adjusted to the respective contamination. This ensures that optimal use is made of the fluid. The cleaners are also suited for continuous operation of the devices, because the cleaner components remain stable and will not lose their effectiveness over time.
This range provides an efficient alternative to solvents, because the cleaners are VOC-free or VOC-reduced.
THE STAR US CLEANERS AT A GLANCE
STAR US 1: The only acidic cleaner in this range mainly removes rust, limescale, tarnishing and mineral deposits.
STAR US 2: It mainly serves for removing residues of separating agents and plastics from moulds and tools and can also be used universally for removing oils, greases, soot, etc.
STAR US 3: This cleaner is used on burnt-in and carbonized contaminations. The perfect alternative to solvents because it is VOC-free.
STAR US 4: The all-rounder of the range, as it is suited for alkaline-resistant surfaces and will not attack sensitive metals such as aluminium or non-ferrous metals.
STAR US 5: The strong one – For the cleaning of very contaminated components from oil incrustations, resinified greases, carbonizations or thin varnish layers.
Achieve extended bath service lives
The STAR US cleaners are demulsifying, which means that after the cleaning process oils and greases will be floating on the surface. The cleaning fluid can be used for a longer time if this floating layer consisting of oils and greases is skimmed off by means of e.g. plate phase separators (PPT). The PPT are suited for any pH value, so they can be used in all ultrasonic baths.
More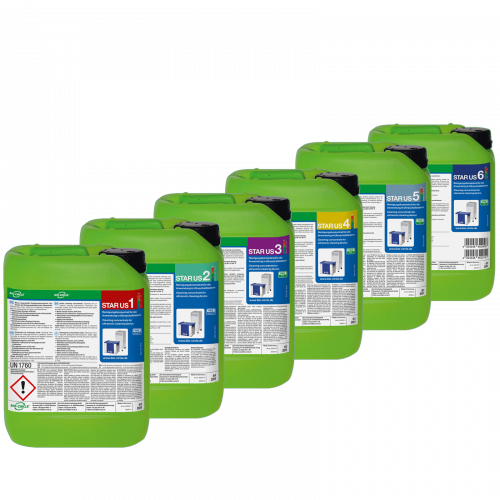 THE ADVANTAGES
Einsatz in Ultraschall- und Multifrequenzanlagen
Sparsame Nutzung der Reiniger durch geringe Einsatzkonzentrationen
Für den Dauerbetrieb geeignet
Längere Nutzung der Reiniger – Eingetragene Öle und Fetten schwimmen auf und können abgetragen werden
Vielfältig: Für verschiedenste Materialien und Verschmutzungen