UNO Range
The UNOs are water-based, alkaline and phosphate-free intensive cleaners for manual application and use in application systems, immersion baths and automatic parts washing machines.
UNO X is a gel foam cleaner for manual application. Perfect for the Foam Injector, also on vertical surfaces.
UNO W is the water-based, alkaline workshop cleaner with temporary corrosion protection for manual cleaning.
UNO S V is a viscous intensive cleaner that is ideally suited for manual application in the Foam Injector, FOAM BOOSTER, and Foam Sprayer. NSF-certified.
UNO S F is a low-foaming intensive cleaner that is also suitable for mechanical application.
UNO S PF is a low-foaming intensive cleaner for mechanical application. With temporary corrosion protection.
More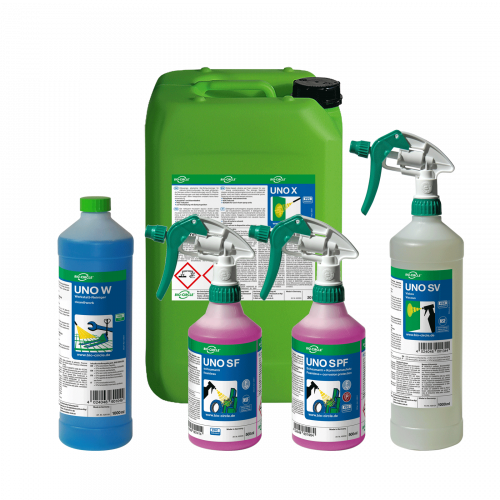 THE ADVANTAGES
Removal of most persistent soiling such as oil, oil carbon, grease, soot, strongly adhering environmental soiling, burnt-in soiling etc. from steel and stainless steel
Stable foam, long contact time possible → UNO X, W, SV
Very economical → see mixing ratio table in the product details/applications