E-NOX Range
The ready-to-use products of the E-NOX range have been developed especially for the cleaning, care, and protection of all sensitive metal surfaces, such as stainless steel or anodized aluminium.
All products are free from hydrofluoric and nitric acid, which makes them the ideal choice for the cleaning and care of matt and polished stainless steel, aluminium and non-ferrous metals. The E-NOX cleaners can be trusted to remove contaminations such as residues, tarnishing, streaks and stains. Also large heavily weathered or corroded stainless steel surfaces can be cleaned easily. Extraneous rust, mineral deposits, such as limescale- and cement layers, or sticky foil residues are removed without affecting the basic metal.
The E-NOX Care maintenance oil for protection and polish gives the surfaces a slightly gleaming finish. A slight protective film will keep subsequent fingerprints invisible.
It can be used in the industry and craft sector but also in the house, for cleaning, protecting and maintaining components, machinery or parts of buildings. E-NOX Shine and E-NOX Clean can also be sued in the foodstuffs industry. For kitchen appliances and systems in industrial kitchens, breweries, dairy plants and such, cleaning and care is particularly required not only for optical but also for hygienic reasons. Surface treatment of finished metal components and of those that are in use helps retain their value. Parts will also be protected for extended storage periods. The products of the E-NOX range are suitable for all stainless steel surfaces. The stainless steel materials are divided in V2A und V4A, which may both be used indoors and outdoors. The surfaces are categorized depending on their degree of graining. The finer a surface has been ground, the higher the specified value (e.g. grain 240, grain 320, grain 600).
More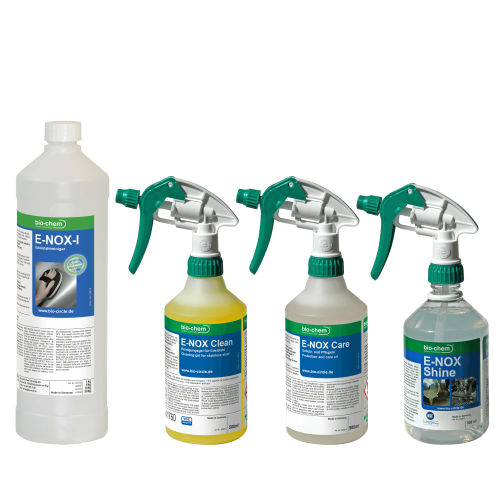 THE ADVANTAGES
Coordinated product system especially for the cleaning and care of sensitive metal surfaces
HAZMAT-reduced
Safe and easy to use