TIME FOR MORE
BIO-CIRCLE GT - Parts Washers

The BIO-CIRCLE GT-i parts washer: For excellent results in parts cleaning. Always ready for use and with the best cleaning quality. And all by itself: convenient, economical, safe, environmentally friendly.
This is because the control box of the parts washer transmits values about the quality and filling level of the cleaner as well as the oxygen supply to the microorganisms. Our Customer Service will contact you if any action is required. You decide what you want to do and when. It couldn't be quicker or easier!
Available in two sizes: GT-i Compact or Maxi, technical data see below
The perfect match: BIO-CIRCLE GT-i parts washer + BIO-CIRCLE L Evo
The upgrade: Two users can work simultaneously on the stainless-steel top (rack included) (work surface 1504 x 1004 mm, payload up to 500 kg or up to 1000 kg).
More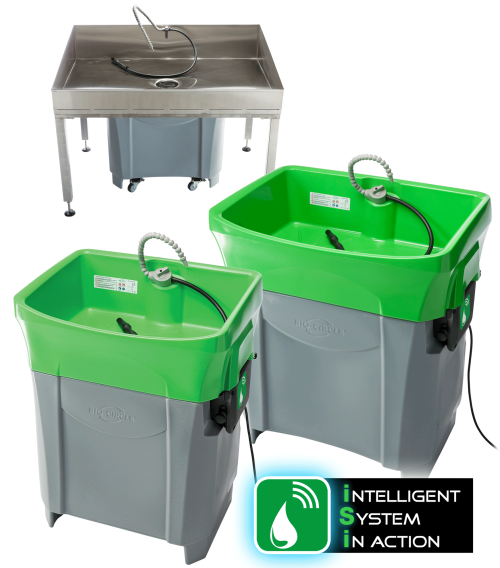 THE ADVANTAGES
The BIO-CIRCLE-i technology - electronic, digital, smart:

The control box transmits values regarding filling level, condition of the cleaner, etc.

Two sizes are available: GT-i Compact and GT-i Maxi
Easy transport by pallet truck
Optimal depth of the basin for good splash protection
Filter system in the basin outlet (coarse, fine and bag filters and magnet)
Drainage system
8 years of BIO-CIRCLE equipment protection
To be ordered separately:

Filter housing with various filter inserts
Rail system with castors for mobility
and many more
THE PRODUCTS
Temperatur (Voreinstellung)