With 3 clicks to your top choice
BIO-CIRCLE GT Compact
The BIO-CIRCLE GT Compact makes parts cleaning easy and safe. The parts cleaning device meets highest requirements on ease of use, reliability and suitability for daily use. Water-based cleaning with natural microorganisms, without...
E-WELD Nozzle
High-performance protection spray featuring an inorganic formula E-WELD Nozzle is a ceramic-based anti-spatter spray. It extends the service lives of the weld nozzles and facilitates uninterrupted work in MIG/MAG welding. Using...
Product sizes:
starter kit 5 x 400 ml + TASK Pro
BIO-CIRCLE L EVO
BIO-CIRCLE L Evo you can extend the operating time of your machine through microorganisms, with regular maintenance. Strong and versatile: for virtually all materials, for medium to heavy soiling. Your work will be fast, effective and...
Zinc-Spray
Zinc Spray features a high concentration of zinc pigments that guarantee protection against weathering influences. Effective corrosion protection.
BIO-CIRCLE L ULTRA
BIO-CIRCLE L Ultra guarantees long bath lives paired with high cleaning performance. The cleaning fluid is processed naturally by microorganisms, and using it in the BIO-CIRCLE parts washer supports the long service life by means of the...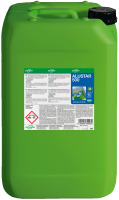 ALUSTAR 500
Uncompromisingly good – gentle on the material The water-based ALUSTAR 500 machine cleaner does what classic alkaline cleaners cannot: It removes persistent burnt-in oil and grease residues also from aluminium, brass, and copper! With...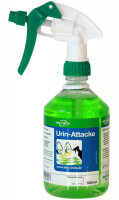 Urin-Attacke
The user-friendly and eco-compatible sanitary cleaner is VOC- and label-free . Spray it directly on the tile joints around toilet bowls and urinals. Toilet- and urine odours are eliminated efficiently and with long-term impact .
PROLAQ L 400
ROLAQ L 400 has been especially designed for use in the PROLAQ cleaning system but it equally suited for immersion bath applications .
Product sizes:
PET-(Recyclat) Flasche 500ml
BIO-CIRCLE flow-through brush, standard
Der Standart Durchlaufpinsel bietet dem Anwender maximale Unterstützung während jeder Reinigung. Unabhängig von leichten oder starken Verschmutzungen.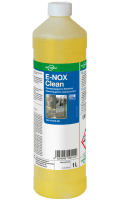 E-NOX Clean
Highly effective, ready-to-use cleaning gel (can be diluted with water up to 1:40; the gel-like, viscous consistency of the cleaner will decrease as water is added though) for removing mineral residues, such as limescale- and cement...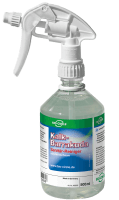 Limescale Barracuda
Limescale Barracuda can be used universally for removing limescale. Ideal for the cleaning of surfaces in sanitary facilities, saunas and public pools. The eco-sensitive cleaner can also be used outside on glass, stone,...
Product sizes:
PET-(Recyclat) Flasche 500ml mit Sprayer
10 rPET-Schaumsprayfl.+10 Refill, 500ml