SC Range
The SC range
Residue-free cleaning and degreasing
The SC 100, 300 and 400 special cleaners are cleaners and degreasers based on natural-source orange peel extracts, developed for the fast, effective and virtually residue-free removal of extremely persistent contaminations and incrustations as they occur in the trades and the industry. Adhesive residues, bitumen, lubricants, graffiti, resins, oils and greases as well as rubber residues and marks are safely removed from surfaces such as metal, stone, concrete, marble, tiles, wood and glass. Thanks to their high cleaning efficiency and ensuing fast evaporation further processing is possible in no time. Even resinified lubricants can be removed without problems. In the cleaning- or washing process, they are used as cold cleaners at ambient temperature and also at temperatures of down to -30°C/-22°F. The degreasing special cleaners are universally applicable in the metalworking-, plastics-, woodworking-, rubber-, printing- and textile industries, and also in maintenance and service. They also show their fast intensive cleaning effect on oily, greasy work pieces, such as engine- or machine parts. They are also suited for stain removal and for turpentine-soluble natural resins, such as pine resin or kauri.

Orange peel extract: The natural essential oil of the orange peel is carefully extracted by cold pressing. The orange peels are pressed at low temperature and processed with the aid of gentle physical-technical procedures. Essential oil content of the orange peel is 0.3 − 0.5 %. Essential oils are particularly suited as solvents and cleaning agents. Besides being used as solvents for resins and oils, they are also used as flavouring agents in the food- and cosmetics industry.


More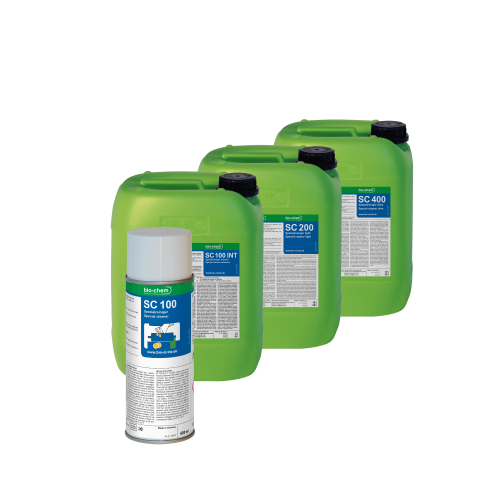 THE ADVANTAGES
Based on natural-source orange peel extracts
Effective removal of adhesive residues, bitumen, lubricants, graffiti, resin, etc.
Pleasant scent
Ideal for use in the metalworking-, plastics-, woodworking-, rubber-, printing- and textile industries
No CHC, no CFC
Leaves virtually no residues
Can be used on the most persistent of contaminations
THE PRODUCTS
Top Unterschiede zu Familienprodukten
Allrounder mit guter Lösekraft
schnell trocknend
Flammpunkt von 12°C
geruchsneutraler als SC 100
nahezu rückstandsfrei
sehr schnell trocknend
Flammpunkt von 14°C