With 3 clicks to your top choice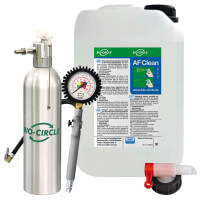 AIR FORCE & AF Clean
✔ Air Force & AF Clean: Air Force, 3 L of AF Clean, tyre inflator with adapter, drain tap ✔ Extremely quick and easy: Unscrew spray can – fill in cleaner – screw down – top up with compressed air – get started! ✔ AF Clean: Label-free,...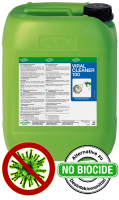 VIRAL CLEANER 100
✔ Universal surfactant cleaner ✔ Ready for use ✔ REMOVES light soiling such as greases, oils, protein, nicotine, coffee- and tea stains, pencil, ink etc. ✔ CLEANS sensitive surfaces ✔ Anywhere and anything : tables, chairs, kitchen...
CB 100 Alu LR (low residue)
The CB 100 ALU LR Nature Boost cleaner is based on sustainable raw materials. Its most striking feature is its excellent dissolving power; for these reasons the cleaner is VOC- and label-free under the CLP Regulation. After cleaning,...
Uni-Sorb
UNI-SORB efficiently absorbs liquids, preventing them from reaching groundwater of other water cycles. In addition, the granulate has an excellent grip that binds greasy and oily liquids in such a way that the risk of accidents by...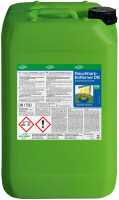 Smoke Resin Remover DB
The highly concentrated, water-based alkaline Smoke Resin Remover DB contains especially selected surfactants that prevent foaming during the cleaning process. So it can be used in different cleaning systems, such as single- and...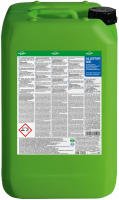 ALUSTAR 300
ALUSTAR 300 is a highly alkaline, water-based cleaner and degreaser for extremely persistent contaminations. It is used in mechanical cleaning- and degreasing processes. It has a product description in accordance with ÖNORM B 5105,...
ALUSTAR 100
ALUSTAR 100 is a label-free, highly concentrated, water-based cleaner for application in automated degreasing processes. It is slightly alkaline (pH 9) and is free from silicates, phosphates and solvents. This makes it suitable for the...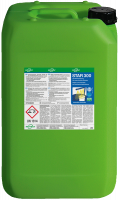 STAR 300
STAR 300 is a highly-concentrated, water-based and low-foaming cleaner for mechanical applications in degreasing processes. It is highly alkaline (pH approx. 14); it contains no phosphates or solvents, and it is also free from volatile...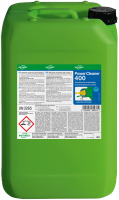 Power Cleaner 400
Power Cleaner 400 is an efficient water-based acidic cleaner for the removal of even the most persistent of mineral deposits. The cleaner is aggressive on deposits but gentle on the surfaces. It features a high dissolving power with...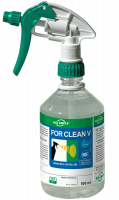 FOR CLEAN V
✔ Manual application ✔ Slightly viscous, foaming ✔ Unrestricted working, also overhead ✔ Optimal for vertical surfaces ✔ Cost-efficient ✔ To be...
Product sizes:
PET-(Recyclat) Flasche 500ml mit Sprayer
10 rPET-Sprayflasche + 10 Refill, 500ml
UNO W
UNO W is an intensive cleaner for the workshop area. Its effective formula makes it possible to remove typical soiling such as oils, greases, resins, waxes, nicotine, insect dirt, soot, and bitumen- and tar spatter. UNO W is alkaline,...
Product sizes:
5 Sprayflaschen + 5 Refill je 1000ml
UNO X
UNO X is a water-based, VOC-reduced intensive cleaner with strong, solid foam formation. Its highly effective formula is ideal for removing oil, oil carbon, grease, soot and strongly adhering environmental soiling. Due to its strong...