Surface protection in plasma- and laser-cutting
E-WELD Shield
Coating the bars with E-WELD Shield in plasma- and laser-cutting prevents major build-ups of slag. This makes the bars easier and faster to clean, and they can be used for a longer time. This means that using E-WELD Shield will not only save time but also reduce costs.
Cut your costs!
The plasma- and laser-cutting systems are available for longer periods of time because the bars do not have to be replaced so often and cleaning requires less time. This means that the systems can run for longer times and higher quantities can be produced. A reduction in the build-ups of slag will also result in a better cut-out quality because the material rests flat on the bars.
Easy, ergonomic, effective
Mix the E-WELD Shield thoroughly, then simply apply it to the new or cleaned bars by means of the spray system. It is also very economical because 1 kg is usually sufficient for approx. 20 square metres. The ceramic additives contained therein effectively prevent slag that builds up in the cutting process from adhering. Safe application is guaranteed because the product is free from volatile organic compounds and does not require labelling under the CLP Regulation.
More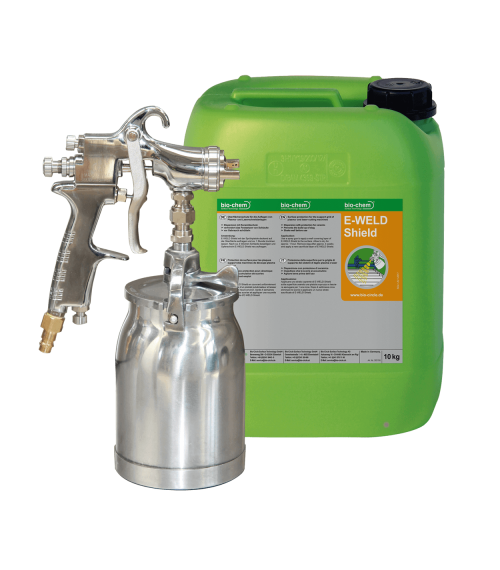 THE ADVANTAGES
Fast and easy cleaning of the bars because of less slag adhesions
The bars do not have to be replaced so often.
The systems can be used over longer periods of time.
The material for the cut-outs rests flat on the bars.
MATCHING ACCESSOIRIES
Perfectly equipped at all times
With the original accessories for your BIO-CIRCLE product you're always on the safe side, be it stainless steel inserts, brushes or filters.
Zur Zubehör-Übersicht
What customers say:

The BIO-CIRCLE is used in the maintenance paint shop and is used for the cleaning of PVC application systems. Since these application systems have...
All testimonials
TEST PRODUCTS
The BIO-CIRCLE in your company.
Take a look at the site and see for yourself the excellent cleaning performance while providing the best protection for users and the environment.
Terms and conditions
You want to know more about E-WELD Shield?
Our customer service team will gladly provide you with a comprehensive consultation and will also arrange a personal appointment with you on request.

Contact us now!


Make contact
Do you want to sell E-WELD SHIELD to your customers?
We are looking for new sales partner to optimize this business and become even more successful with you together. Are you interested?

Contact us now!


More information