FOR CLEAN
The new cleaners of the Bio-Circle FOR CLEAN range stand for powerful and environmentally compatible cleaning. The products solve the cleaning tasks of industrial cleaning and can be used in manual as well as in mechanical cleaning.
Maximum cleaning performance on mineral and vegetable oils and greases, soot and insect dirt guaranteed. Acts very sensitively and smoothly on surfaces such as rubber, metal, plastics, wood, and ceramics.
With their VOC reduction or low VOC content the all-rounders are gentle on the employee and the environment but perform strongly nonetheless. Their classification as non-labelled makes them safe to use.
They have been developed on the basis of the latest raw material trends, they work effectively at low temperatures, and of course they also do not require any labelling in accordance with the new CLP Regulation. The performance package is perfected by the universal applicability of these innovative cleaners.
In addition, not only storage but also transport is simplified.
No hazardous substance means possible cost reductions. Moreover, no special storage conditions need to be observed.
The products made from renewable raw materials reduce the environmental impact considerably. When developing the cleaning agents, we also focussed on them being suitable for the food industry. The FOR CLEAN V cleaner is NSF certified, which means it can be used in industrial kitchens, meat processing, and also in bakeries without any problems.
There is the right cleaning agent for every contamination.
The cleaners at a glance:
FOR CLEAN: Powerful and eco-friendly cleaner, can also be used in ultrasonic devices
FOR CLEAN F: Low-foaming cleaner, can be used in cleaning systems, excellent cleaning performance on aluminium
FOR CLEAN V: Slightly viscous cleaning agent, for cleaning perpendicular or sloping surfaces, NSF certified
More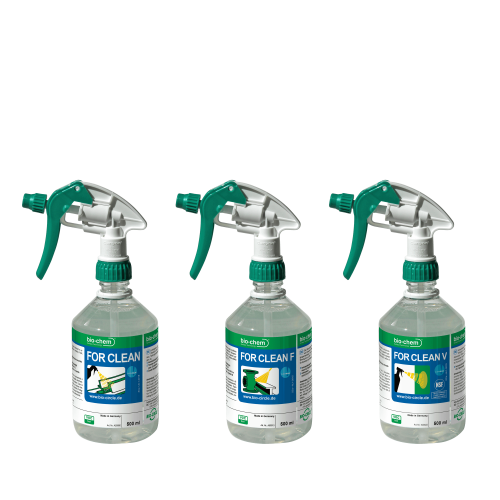 THE ADVANTAGES
High cleaning performance
Safe to use
Universally applicable
Reduced environmental footprint