Article successfully added.
VIRAL CLEANER 300
Art.-Nr :
A01055
#regularly #thoroughly #degreasing
Hygienically clean surfaces and carefree working! The VIRAL CLEANERs are surfactant cleaners with 2-step action (cleaning + degreasing) and restore the hygienic cleanliness of the surfaces – and your safety!
For the outer shell (the lipid membrane) of the coronavirus SARS-CoV-2 can be dissolved by the fat-dissolving property of the VIRAL CLEANER – and the virus decays.
Surfactant cleaner for heavy soiling
Cleaning + degreasing
REMOVES greases, oils, resin, wax, nicotine, protein and much more
CLEANS alkali-resistant surfaces
For greasy dirt in the industry: cabinets, lockers, driver's cabins, workshop floors, tools, machines, machine parts etc.
Ready for use and miscible up to 1:100
For manual application: spray on, allow to act, wipe off with cloth
In order to protect you and your environment as much as possible right now, special attention must be paid to hygiene at work, at home, in public facilities and on public transport. The product is not suitable for disinfection or for cleaning hands or skin.
Product Details
VIRAL CLEANER 300
.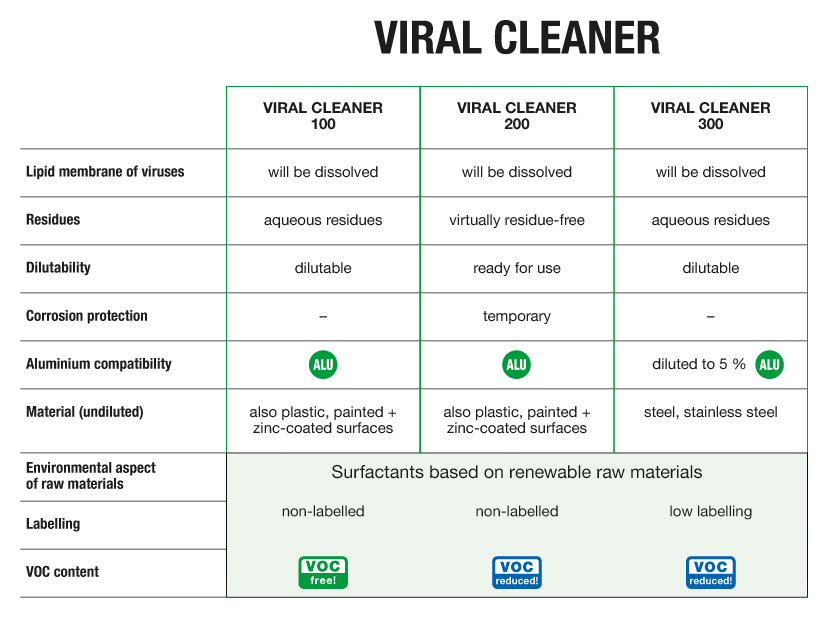 Related links to "VIRAL CLEANER 300"
Seals of approval
Reduced volatile organic compounds
Technical specification
more
Technical specification
| | |
| --- | --- |
| Label: | Labelled |
| VOC content: | VOC-reduced |
| NSF-certified: | no |
| Contamination: | corrosion protection light, dust and swarf, foodstuffs, grease, Nicotine , oil, separating agents |
| Secondary contamination: | burnt-in organic contaminations |
| Material: | Plastics, stainless steel, steel, Tiles, Wood |
| Check material compatibility: | aluminium, non-ferrous metal, rubber, varnished surfaces, zinc-coated surfaces |
| Cleaner basis: | water-based alkaline |
| Mechanics: | floor cleaning equipment & pressure washers, immersion bath, manual cleaning |
| Manual/automatic: | automatic, manual |
| Concentrate: | dilutable |
| Gütesiegel: | VOC reduced! |
| Sicherheitsratschläge: | Eye Dam. 1, Skin Irrit. 2 |
OUR BADGES
Low application temperature, energy-saving, water-saving
From renewable raw materials, non-flammable, VOC-free, non-marking
Suitable for the food industry, miscible with water, can be rinsed without residue
Free from / reduced volatile organic compounds according to EU regulation